This month our own Keersten Martinez celebrates 25 years in practice. But, did you know that she is also one of only ten lawyers who have received Board Certification in Marital and Family Law from the Florida Bar in Orlando?
Why should I choose a Board Certified family lawyer? 
The 'why' matters, especially when it comes to a type of law close to heart and home – your family. With so much at stake, including your children and your assets, an attorney who is Board Certified may be better able to assist you in navigating the complexities of your family law matter.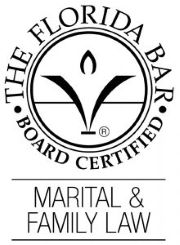 "Certification is the Florida Bar's highest level of evaluation of competency and experience…" – The Florida Bar 

Family law is ripe with case law interpretation on relevant statutes. It is important to seek advice from an attorney familiar with the ever-changing ins and outs surrounding case law.
A lawyer who holds a Board Certification in Family Law possesses qualified experience of at least 5 years in the specific practice of family law. This lawyer is also trusted and regarded as a professional by other lawyers and judges in the industry and community.
Choosing a lawyer holding board certification ensures that you are working with a lawyer that holds a demonstrated level of knowledge, as well as useful resources and connections.
What does being Board Certified really mean?
Florida's Board Certification program has been around for more than three decades. The program's intent is to provide the opportunity for high-achieving lawyers to "prove" that they possess the highest level of competency and experience through a formal evaluation process conducted by the Florida Bar.
"Only an attorney who takes the measures to become Board Certified in a particular area of practice is able to refer to him or herself as an "expert" or "specialist" in that area of practice, per the Florida Bar."
Achieving this certification requires a number of individual factors. First, a lawyer must have at least five years of direct practice experience handling all types of divorce and family law matters (including settlements, trials, and appeals). Next, a peer review from others in the legal community confirms the lawyer's competence, character, ethics, and professionalism. Lastly, a lawyer must successfully pass a rigorous and comprehensive board certification exam. Once certified, an attorney must continuously maintain active involvement in their field of law. Active involvement criteria include attendance in continuing education courses as well as participation in trials. Without this measured involvement, they are not eligible for recertification.
Becoming Board Certified is not easy. 
While it certainly should not be relied upon as the only criteria for selecting an attorney, this certification offers a solid indication that the lawyer in question has the drive to achieve more than the minimum. No matter how rigorous the process. This is a notable character trait when choosing your counsel.
"With nearly 110,000 attorneys licensed by the Florida Bar, there are less than 275 with a Board Certification in Marital and Family Law." 
Board Certification by the Florida Bar assures that you are hiring a highly-capable lawyer who has practiced successfully in their area of law for a number of years. The certification also ensures that a lawyer has been tested and confirmed to be competent in all facets of their specific certified practice of law. 
In our daily practice, we witness first-hand how lawyers can make the situations surrounding divorce substantially better or worse for families. Should you need assistance with your divorce, please reach out to us at 407-403-5990 or email us at info@heskinmartinezlaw.com.