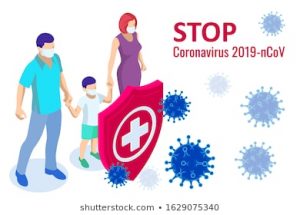 Like all other aspects of our daily life, the Coronavirus/COVID-19 pandemic will affect family law cases in unprecedented ways.  Rest assured that we will get through this together.  Our firm is set up to work remotely and therefore, we can still actively manage your case and move it forward.  However, adjustments on how we work are going to need to be made.
Here are some tips for managing your case during this time of crisis:
First and foremost, follow the CDC's guidelines.  However, the Parenting Plans remain in place and must still be followed.  In Orange and Osceola Counties there is already an administrative order addressing this issue.  Failure to comply may result in sanctions and adverse rulings in your pending case.
There will be limited access to the courts because the first priority is the safety of court staff and litigants.  Judges will still be holding criminal and injunction hearings.  For non-emergency family law issues, the judges are working with the local legal community to come up with creative solutions for hearings, such as video and telephonic hearings, agreements to limit the length of hearings and limitations on witnesses, etc.
DO NOT take advantage of this situation to withhold the children or try to gain an upper hand in your case.  When things have gone back to normal, judges will be examining your behavior during this difficult time and will take it into account in making decisions. (Continue reading below for Orange & Osceola's emergency order governing this type of behavior).
Rely on telephone calls, on-line meetings and other technology to communicate and keep your legal team updated.
Use this time to get organized and get your discovery together or review the other side's discovery to see if anything else needs to be requested.  A lot of this information is available on-line so take advantage of any down time to get caught up and get this information together now so you are ahead of the game when the courts are back to normal.
Orange, Osceola, and Seminole County have issued some guidelines for dealing with this situation, and so has the Florida Supreme Court.  As these guidelines evolve, we will be sure to update you.
Florida Supreme Court

Circuit and county courts are to continue performing essential court proceedings, including certain criminal hearings, juvenile detention hearings, temporary injunction hearings, Baker Act or Marchman Act hearings, and hearings on extraordinary writs to protect constitutional rights.
In conducting all essential proceedings, courts shall utilize all methods practicable to minimize exposure to COVID-19.
No court proceedings other than essential proceedings and those critical to the state of emergency or public health emergency shall be held in-person.
The chief judge of each court shall cancel, postpone, or reschedule all non-essential hearings unless the judge determines such hearing can be conducted telephonically or through other electronic means.
Notaries are permitted to swear witnesses in remotely, without the need for in-person contact.

Orange & Osceola County

Courthouses have been closed to the public with limited exceptions.
Emergencies:  Pro se litigants and attorneys will still be permitted into the courthouse to file emergency motions.  In order for a judge to set a hearing on an emergency motion, according to CDC guidelines the judge must find that the issue is of such an essential nature that it warrants putting court staff and the general public's health at risk to hold the in-person hearing.
Conducting hearings or trials:

Attorneys can agree to waive hearings, provide the judge with materials they wish him/her to consider and supply proposed orders to the judge for ruling on same without a hearing.
Video conference call:  attorneys can agree to waive live testimony and can present their arguments to the judge, allowing the judge to rule without an in-person hearing.
For upcoming non-evidentiary hearings, attorneys can file motions to have the issue addressed telephonically or via written submissions.

Uncontested divorces can now be finalized via mail instead of attendance at a final in-person hearing. (This has been the case in Seminole County for several years).
The judges and courthouse staff are working behind the scenes to come up with creative solutions and are committed to remaining responsive to the community's needs.
Emergency Temporary Standing Administrative Order, No. 2020-07, dated March 24, 2020. (View the order here.)

Pursuant to this order, unless otherwise prohibited by an existing order, each parent is prohibited from unreasonably restricting access of the child(ren) to the other parent.
If there is a Parenting Plan in place, regular timesharing shall continue until the school district (or official governing the child(ren)'s school) announces the last day of school, at which time summer timesharing will begin.  If a child's school year has already ended, summer timesharing should begin immediately.
Exchanges that were to take place at a school or daycare that is not currently open should be arranged between the parties.  If they cannot agree, then the exchange should take place at police station or sheriff's office closest to the school or daycare based on Google maps or something similar.
If the Governor issues a "shelter in place" order, the parents should discuss where the child(ren) would be in the best position to meet school requirements, remain with siblings, and be safe.  If the parents cannot agree, the parent with majority timesharing in a parenting plan (183 or more overnights) shall keep the child(ren) until the shelter in place order is lifted, at which time regular or summer timesharing, if applicable per the above, should resume.  Makeup timesharing can be addressed with the court.
Video-conferencing and phone contact as set forth in the Parenting Plan should be INCREASED during this time to alleviate fears and concerns of the child(ren) during this time.
"Parents are strongly cautioned that unreasonable, hurtful, or destructive behavior may be severely and harshly sanctioned by the court, and the non-offending party may be awarded significant make up time, including summer and consecutive major holidays, and the Court may award attorney's fees and costs to be paid to the prevailing party."

Seminole County

All domestic violence and injunction hearings are suspended until April 15th.  Any current temporary injunction order shall remain in place until the date of the rescheduled hearing.  Any temporary injunction that may be granted between now and April 15th shall remain in place until the hearing on the permanent injunction is rescheduled.
All family law adoptions, name changes, and uncontested divorces shall proceed as planned for the time being, except that attendance is limited to the parties and their attorneys only.
For mediations, parties may attend telephonically and their attorneys can attend the mediation in-person on their behalf.  The attorneys can sign any mediation agreement that is reached and the clients can confirm the agreement via email during the mediation.
As the landscape evolves, we will update you.  As always, please do not hesitate to reach out to us with your questions and concerns.